Every day, we juggle marketing, logistics, maintenance, customer queries, guest check-ins, and lots more so that we can provide homeowners who have trusted us with their property a sustainable source of passive income. We ensure that your asset is being taken care of, promoted, and monetized—without any hassle to you. Here are the answers to a few common questions, if you have another question or want to have a chat about an answers email us on hello@propr.ae or contact us through our website.
Why should I partner with Propr?
Propr is the only host management company based in Africa and the Middle East to have a direct API (Application Programming Interface) integration with Airbnb. We adhere to DTCM—Dubai Tourism regulations as we integrate the convenience of luxuriously furnished hotels with all the comforts of a home. Unlike most other agencies, we ensure that before each check-in, the property is cleaned and our concierge personally welcomes each guest for a tour of the space. Not just that, we leverage our in-house algorithm to find the best prices and provide complete transparency to hosts using a smart dashboard.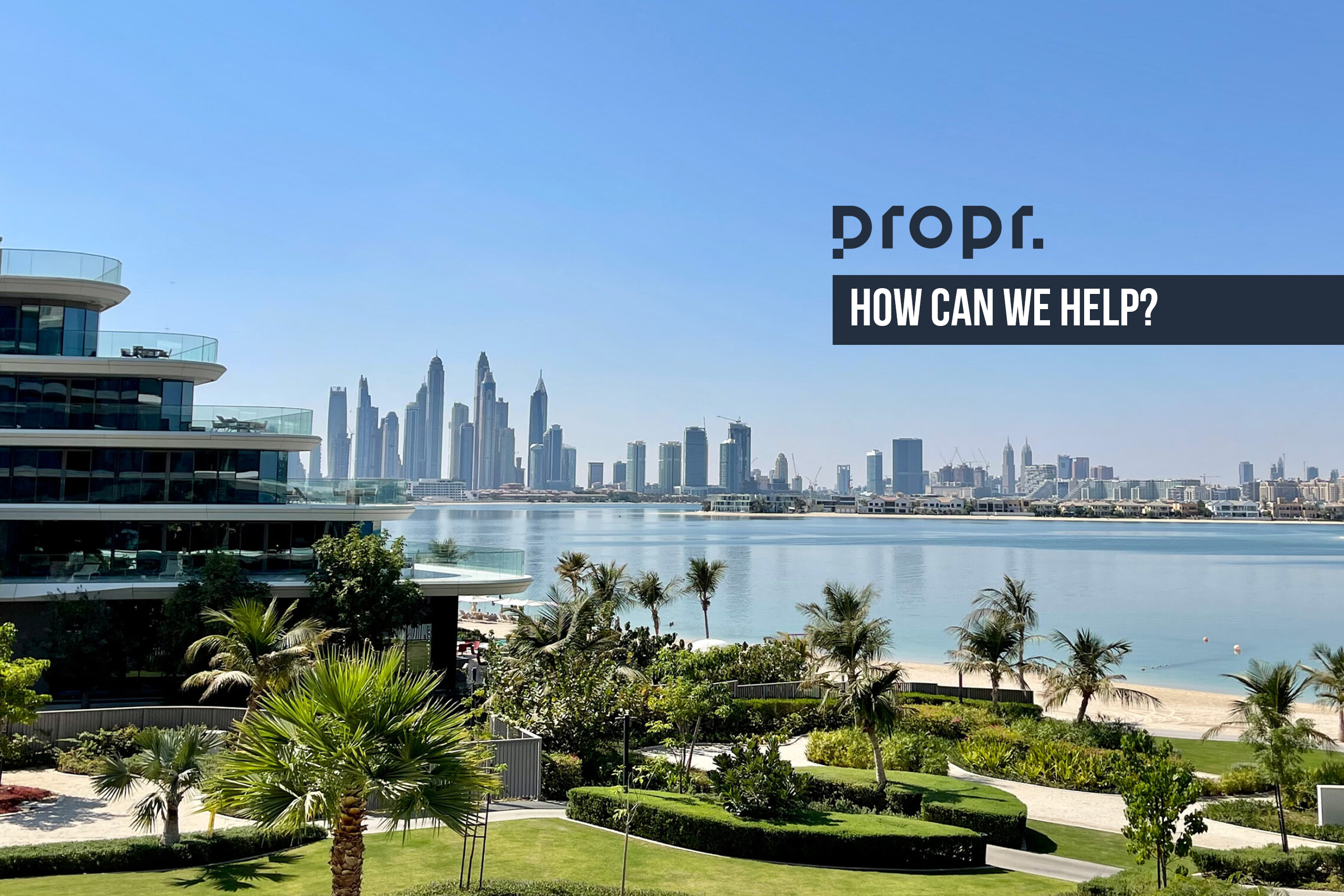 How does Propr manage pricing for my property? 
We have developed our own automated pricing algorithm. Prices are updated on a daily basis and synced to all platforms. We create a set point for each property (based on property-specific projections) per month as well as over major events (e.g. New Year's Eve, Easter etc.). We use real market data across all Airbnbs in your area, from AirDNA & Wheelhouse, to make sure our projections are accurate. The system will then start the price a percentage above the set point (normally 30%) and drop it daily until we find the price the market is prepared to pay or we hit our minimum price. This ensures that we will always reach the price the market is willing to pay from the top.  
Will Propr consult me on pricing adjustments?
Autonomy on pricing is important to us so that we are able to maximize your net rental revenue. Our automated pricing algorithm updates prices on a daily basis and automatically syncs to all platforms. Having said that, if you would like to have a (reasonable) minimum price per month then we can incorporate that into our algorithm. 
What is your strategy for bookings in the off-season?
We follow a two-pronged approach during the winter months to maximize booking performance: 
We advertise on all short-term rental sites as we do in the peak season. Our automated pricing algorithm will ensure that your pricing remains competitive through the off-season months. 

We advertise for a medium-term rental on platforms like Property Finder and Bayut. We also tap into our network of corporate travel agents, relocation companies and film production companies. We would, of course, continue advertising on all short-term rental platforms but this is an alternative booking source which we like to pursue in winter. 
The goal during off-season months is to get as close to the long-term rental rate as possible so that the lucrative winter months can allow us to exceed the average long-term rental rate over the year. 
What will the occupancy rate be for my home? 
Occupancy as a standalone metric is not meaningful unless it is viewed in conjunction with the nightly rate (e.g: We could achieve 100% occupancy at AED 100 per night, but that would not be in your best interest). We use net rental revenue as a target as this is what ends up in your pocket at month-end. Our occupancy rates currently range between 50%-60% in summer and 65-80% in winter.
What are some of the reasons that properties don't perform? 
Listing Specific Reasons: 
Quality of photographs

Sup-optimal pricing

Poor listing descriptions

Apartment design

Missing amenities (e.g. parking)

Bad reviews, cancellations, response time etc.

Momentum (e.g. starting in winter, loss of momentum after a long owner booking etc.)

Restrictions placed on us (e.g. minimum price settings, only listed on Airbnb)

Noise, construction, specific location
Industry-specific factors
Oversupply of properties leading to lower prices

Regulation of Airbnb
Macro factors: 
Pandemic

Regulatory (e.g. Visa regulation)

Depressed economy globally affecting travel. 

Changing travel trends (e.g: people working remotely lowering demand in hubs that were traditionally business-focused). 

Relative strengths of currencies
What can we do to improve bookings? 
The list above can be used. Going through the list and finding the main issues would be a useful start in putting together an action plan. This is valuable when taking over an existing Airbnb account that is not performing—it can serve as a way of diagnosing the underperformance.

Can you please lower your cleaning fee? It is affecting my bookings.
We have run many experiments over the years altering our cleaning fees and we have found that they do not act as a deterrent to guest bookings. In fact, some guests have even mentioned that a cleaning fee on a listing gives them the peace of mind that it will be cleaned properly.
If you still feel uncomfortable having the cleaning fee in place then we could remove it or lower it but we would then need to take the cleaning fee out of the booking value so that we are reimbursed for the cost that we incur for housekeeping. 
Can you pay me through my foreign bank account? 
We can but the bank fees will be for your account. To minimize the cost to you we generally recommend paying you quarterly but we can also pay you monthly.

I would like to be paid after every booking. Is this possible? 
Unfortunately not. As a company we made a decision to have our billing cycle once a month for the following reasons:
Airbnb pays for bookings 24 hours after check-in and it typically takes up to 3-5 days to reflect in our UAE bank account.

We often incur expenses on behalf of clients which we have to cover upfront before they can be deducted from any rental income.

On average our bookings are 3-5 days long so typically we are talking about small amounts being carried over into the following month.

Booking values can easily change. If a guest finds a valid reason to cancel (e.g. leak or faulty aircon) then we have to pay the guest a refund which we will then have to pay from our pocket until we can recoup it the following month.

Platform FAQs
What is the platform fee? 
The platform fee is the fee charged by the online platform (e.g.Airbnb, Booking.com, Expedia, Agoda, Trip Advisor, HomeAway etc.). This fee varies across the different platforms and can be charged entirely to the host (in the case of Booking.com) or split between the guest and the host. Each 3rd party platform treats its commissions slightly differently but they all take roughly 15%. We scale the rates across the platforms so that the net payout to you is always the same regardless of which platform is used. In other words, no platform is more expensive than any other as the net payout to you as the property owner will be the same. 
Which platforms are you on? 
Airbnb, Booking.com, Expedia, Trip Advisor, HomeAway, Property Finder, Bayut & Agoda, as well as our own agent login which allows corporate travel agents, film production companies and relocation companies to book with us directly. We also have our own direct booking platform which guests can use to book with us directly – https://guests.propr.ae In total, we are listed on over 200 platforms in 75 countries. 
How do you manage the risks associated with other platforms around payment, enforcement of cancellation policy and damage resolution?
We have built quite a bit of tech to replicate the safeguards that Airbnb has put in place. If we haven't received at least a 50% down payment for a booking from a guest within 48 hours, the booking will be canceled. The remaining 50% is due within 7 days of arrival. 100% of a booking is due if the guest is arriving within 7 days. Any non-Airbnb guest is routed to a registration page where they agree to our booking terms and conditions and submit their credit card details (which also get stored in the event that we need to claim for damages from the guest). 
How does your agent login work? Who is your agent login aimed at?
Our agent login is aimed at corporate travel agents, film production companies and relocation companies. There are a number of companies that have started realizing that there is no need to pay exorbitant hotel rates for their employees and that the flexibility of self-catering accommodation is in many ways preferable. These bookings are often longer (2 weeks up to several months) which makes them especially attractive in winter. We have a sales team which is responsible for forming relationships with these companies and onboarding them onto our agent zone. 
Agents receive login details that allow them to see all of our properties and search for them (much like you would be able to do on Airbnb). They are able to put together unbranded quotes for their clients and reserve properties for up to 48 hours and book them directly with us. 
What is your notice period? 
Our notice period is 3 months.
How much commission do you charge on existing bookings? 
We will charge half of our normal commission on existing bookings (i.e.10%+VAT) and the cleaning fee which we determine for each property. If no cleaning fee (or a small cleaning fee) is charged by the owner on his existing bookings then we will need to strip the cleaning fee out of the booking value.
How much commission do you charge for bookings after your notice period? 
We will charge 10%+VAT on bookings beyond the three-month cancellation window. We will not take a cleaning fee since we will no longer handle those clients. 
Are there different Property Management packages, and what is the cost?
There are no packages—we offer the same level of service with comprehensive solutions to all our clients and guests.
Do you provide Welcome Packs?
Yes, we do.
What is the biggest benefit of working with Propr?
With Propr, you can outsource the most essential tasks—and the ensuing burden—that enable you to run a successful vacation rental. With Propr at the helm, we become responsible for everything from cleaning and maintenance to guest relations. You can earn a steady passive income while minimizing your involvement. 
How do you come up with your income projection? 
We arrive at our projections through a combination of market data (we use AirDNA & Wheelhouse which scrapes performance data of all Airbnbs in your area (and a few other platforms). We use this data and adjust it for the features of the particular property we are doing a projection for (things like level of furnishings, exact location, views, parking, security, pool, garden etc.). We try to make our projections as realistic as possible as it sets expectations with our owners from the start.
How accurate is your income projection?
Since we provide a range of income in our projections (worst-to-best-case scenarios) our projections are fairly accurate. We certainly do not try to overstate the income since we will need to meet those expectations. The accuracy of our projections is constantly improving since we are getting more and more data points on which to base our projections.
Do I need special insurance? 
We strongly advise all owners to go for household insurance that includes cover for short-term rentals. It is important to place on record with your insurance company that you will be renting the property out on a short-term basis and that you would like your cover to include third-party liability cover and damage by guests.
What happens if a guest injures himself on my property? 
From a liability perspective, all guests agree to our standard booking terms and conditions which include an indemnity in the case of injury or death. Your insurance cover will cover legal costs should a guest wish to pursue legal action.
Under what circumstances will the landlord be contacted?
The landlord is contacted only when there are major upgrades or accidents. However, these instances are rare and minimal. 
Will you take care of my pool, garden and any other work that my property requires? How does this work? 
Yes, we will. If you have preferred suppliers that are currently taking care of your pool and garden then we can continue those arrangements. Alternatively, we can also use our list of suppliers who we have tried and tested. 
Can we use my existing Airbnb profile? How does that work? 
Yes, we can. We would just need to change the email address and contact number so that guest correspondence is routed to us correctly. Should you wish to manage the property yourself again at a later date then we can simply change the email address back to yours. Should you wish to use Airbnb to travel, we would strongly advise creating a new travel profile to prevent any of your travel correspondence from getting mixed up with guest messages. 
Keys
How many sets of keys do you require?
The number of bedrooms + 2 sets. We are generally able to cut the keys and test them but we may need help from the owner to get tags/access cards in the case of homeowner associations. 
What happens if a key is lost and who pays?
A lost key is treated very seriously as it can pose a security risk. All of our keys have a QR code and no visible sign of the property address so the security risk is minimized. Nevertheless, a lost key generally means that we would change at least one lock at the property so that the lost set becomes useless. The party at fault will pay for the keys. 
Cleaning
Do you provide daily cleaning? 
If a guest would like to have housekeeping every day then we can provide that service. We would charge the guest directly and this would not affect the property owner. 
What happens if I have had no bookings in a while – would you still go in to clean regularly?
If it has been more than a week since the last cleaning our system will always schedule a freshen-up cleaning for the day of the next check-in. 
Will I be charged for cleaning?
You will be charged for cleaning when you stay at the property yourself or when we clean after some sort of maintenance work. All other cleaning related work is  charged to our guests directly. 
Will I be charged for cleaning materials? 
No, this is covered by the cleaning fee. 
What products do you provide to guests as part of their booking (tea, coffee, toilet paper etc.)? 
All of our guests are given an initial supply of tea, coffee, sugar, milk, shampoo, shower gel, soap and cleaning materials.
Do you do a full inventory after every guest? 
We don't do a full inventory of every item, we do a 25-50 point inventory check before every guest. 
What is the 25-50 point inventory check? 
It is a shortlist that contains a maximum of 50 items which will be checked by our concierges using our staff app ahead of every check-in. It is essentially an abbreviated version of an inventory list which allows us to quickly check for obvious damages and property-specific items between bookings. 
Can I customize the 25-50 point check to include specific items? 
Yes, we encourage you to let us know if there are any specific items which you would like inspected before every check-in. These will be added to the assessment. 
What happens when damages are detected? 
As part of our services, a dedicated property manager would try to claim damages from the guests. For example, Airbnb has a host resolution center for dealing with issues like this. Your property manager would approach them with the evidence in a timely manner. Airbnb would then review and attempt to claim damages from the guest. If they fail to do so, they would then decide if this should be covered by Airbnb's host guarantee, which covers hosts for damages up to USD 1million. 
On the other platforms, the guests go through a registration process through our 3D secure payment loop. When they book the property they receive an automated email. This email thanks them for their booking and informs them that it is not yet confirmed—and they need to click on a link to do so. This link takes them to a 3D secure payment method where they are sent an OTP to confirm that their credit card belongs to them. We then retain the guest's credit card details and if there are damages we would attempt to charge them.
Who pays for damages that are not detected? 
We do our best to detect and claim damages. However, should damage go undetected or a claim fails it is important that you have household insurance with short-term rental cover to protect you from this. Propr would only be liable in cases of gross negligence. 
Didn't find what you were looking for or if you would like to have a chat to discuss anything in detail – simply email us on hello@propr.ae or contact us through our website.