Let's take you on a sneak peek at one of Propr's most booked and sought-after properties. We have seen some amazing properties in the short-term rental industry for many years. Still, with direct beach access, a plunge pool, and accommodation for ten guests, this stunning villa on Palm Jumeirah promises to offer unparalleled luxury. The chic decor with marble floors and elegant furnishings in a muted color palette make it a tasteful space for retreat and rejuvenation. No wonder it is typically booked for months in advance not just by tourists but many Dubai residents looking for a staycation.
Whether you are in the mood for outdoor or indoor experiences—this villa is perfectly situated for everything! Serene beach access, cycling tracks, and proximity to some of Dubai's exclusive shopping malls give you all the experiences that UAE is famous for. Here are some things that make the property everything you've been looking for in a holiday home and serve as major goals for those aspiring to be hosts.
Exclusivity: Situated on the island of Palm Jumeirah, this island offers the highest standard in luxury lifestyle for its residents. While the Palm Jumeirah has many beach-facing properties, none is quite as amazing as this – the only one in the location with a permit for a short-term rental, you get to feel like a resident, not a tourist. This impressive and stylish apartment is the perfect combination of contemporary haven and resort-style retreat. Its layout is modern and open, with a light and airy flow across the spacious interior. For travellers seeking the privacy, warmth, and convenience of a 'home' in Dubai, the W at Palm Jumeirah provides them with the best comforts and exclusive luxury.
Location: Dubai's breath-taking views create memories for a lifetime, and this villa offers stunning sights from the W Residences on the Western Crescent of Palm Jumeirah, where you witness the best of Dubai. Pristine blue ocean, the bejewelled skyline of Dubai Marina and the sought-after address of the Palm.

According to AirDNA, there are currently more than 20,000 listed properties on Airbnb in Dubai. Most Airbnb listings are located within more upmarket areas such as Downtown, Dubai Marina and Palm Jumeirah.

Renowned the world over for its unique design and opulent features, this location ticks all the boxes of luxurious living. Its proximity to the amenities of the Palm including The Pointe, Nakheel Mall, Club Vista Mare and many five-star hotels, luxury spas, beach clubs, entertainment attractions and fine dining restaurants make it an enviable option for a stay.
Design: Guided by Propr's interior décor team, the villa is designed to add light and space and give access to the picturesque surroundings. Floor-to-ceiling glass windows and a patio perfect for watching the sunset or enjoying a scenic dinner are our favorite aspects of the stunning home. The property also has a long balcony with stellar views of the Arabian Gulf.
Another important factor dictating design is thinking about who will stay in the space and how they will use it. Given that the villa can accommodate up to ten guests—two lounges are furnished for the guests to gather, relax and enjoy the villa and its views together. The fifth room with single beds caters to families traveling with children.
The washrooms also come with luxurious bathtubs so guests can unwind and de-stress easily. With the latest furnishings and design elements—cosmopolitan paintings, indoor plants, and designer rugs—the villa exudes elegance and aesthetically sets the bar for good taste.
Additionally, since the property is associated with Propr the guests have "priority access to specially-trained safety agents, day or night."
Amenities
The villa provides linen, towels, tea supply, and shower amenities but goes a step ahead by organizing additional cleaning or laundry services at a further cost if required. Again, by carefully considering who is likely to live in the space, the host also provides babysitter recommendations. Here are some of the key features:
-Fully equipped kitchen.
-Free Wi-Fi
-State-of-the-art gym
-Massive balcony
-High-End finishing
-Infinity and Standard pool
-Signature beachfront
-Landscaped Gardens
-Maids room
-Satellite TV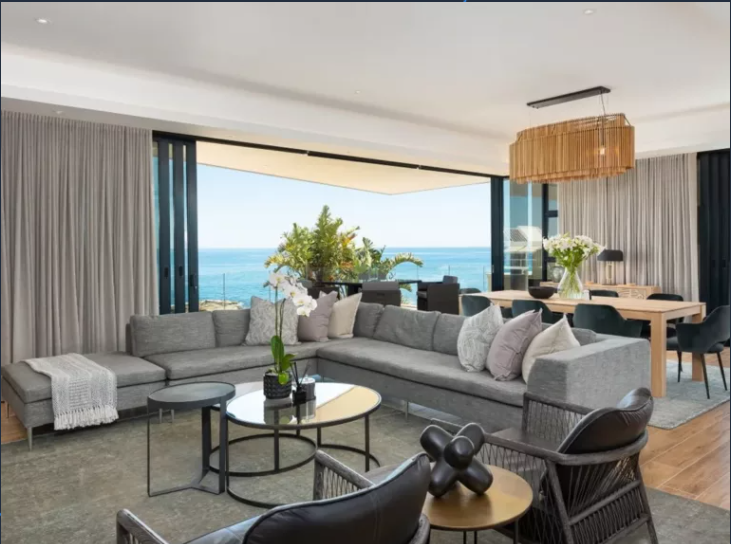 Beach and pool access
The villa comes with access to the beach, a shared pool, and a gym. Essentially, it provides all the amenities of a 5-star hotel—but with the warmth and the solitude of a 'home'—thus combining the best of both worlds.
About Propr:
An experienced player in the vacation rentals market, Propr is the only host management company based in Africa and the Middle East with direct API integration with Airbnb. We adhere to DTCM – Dubai Tourism regulations as we integrate the convenience of luxuriously furnished hotel stays with the comforts of a home. Before each check-in, the property is cleaned before our concierge personally welcomes each guest for a property tour.
Every day, we juggle marketing, logistics, maintenance, customer queries, guest check-ins, and lots more to provide homeowners who have trusted us with their property a sustainable source of passive income. We ensure that your asset is being taken care of, promoted, and monetized without hassle.
Whether you are a tourist looking to stay in this dreamy Airbnb or a homeowner hoping that your property too can turn into a successful holiday rental like this – reach out via email or contact us through our website.